Give your computer a "spring clean".
Like any other household equipment your computer needs a clean-up now and again. There are two kinds of "clean-up" your computer needs. We can do this work for you if you prefer, or you can follow these instructions to do it yourself.
You should never WET electrical equipment - especially your computer. But you can use a cloth just dampened with cleaning solution - two or three drops of mild detergent in a pint of warm water - to wipe over the outside. And dont use paper towel or tissue - it can be abrasive; a clean soft microfiber cloth is best.
Clean PC hardware
When your computer is turned on it acts like a vacuum cleaner. It sucks air in to keep the working parts cool. And like a vacuum cleaner, the dust and fluff gets trapped inside. Now and again it needs "emptying". On laptops cleaning inside is a job for a professional - but you can do this yourself for a tower or desktop case. Get your vacuum cleaner ready with hose and nozzle (not brush). A small (1/2 inch or so) paintbrush is also useful.
With your computer turned off and unplugged from the mains do the following:
Take a damp cloth and wipe over the outside, paying particular attention to the vents and grilles. Then
Remove both side panels. Usually these are fixed with thumb screws but sometimes you may need a screwdriver.
Clean the inside of the panels with your damp cloth and put aside to dry.
Now use your vacuum cleaner plastic nozzle to suck any dirt from inside - DONT TOUCH the parts.
Take your paintbrush and gently remove dust from all the fan blades and heat sinks (aluminium or copper fins), while sucking with the vacuum cleaner nozzle.
Inside the computer you will find a perforated metal box with lots of wires coming out. This is the power supply. Use your nozzle very close to the box to suck dust from inside.
Finally, having done a job more careful than thorough, put the side panels back on.
Cleaning a laptop
A laptop will also benefit from spring cleaning - but here prevention is better than cure - so try not to use it in an area with dust fluff or other contaminants. (I've cleaned a laptop that had been used in a kitchen, and another from a garage. Neither was pretty!)
At no time should you apply pressure to case, keyboard or especially the screen.
You will need - vacuum cleaner, small (eg child's) painbrush, old toothbrush, lint-free cloth, container for liquid.
With your laptop turned off and charger unplugged do the following:
Remove the battery
Take your damp cloth and wipe over the outside, paying particular attention to the vents and grilles.
Use your vacuum cleaner nozzle to suck any dirt from the vents - a paintbrush or toothbrush will dislodge the dust and fluff.
Clean the keyboard. With the laptop open, turn it over and gently tap the back to dislodge crud from the keyboard. You can also run a soft toothbrush between the keys.
Clean the screen - with very weak cleaning solution as above on a cloth and well wrung out. Then wipe dry with another cloth.
Wipe over the keyboard and surround with cleaning solution on a cloth and well wrung out. Close the laptop.
Replace the battery
When fully dry, plug it in, and let it fully charge.
DONT get the laptop wet, and dont damp clean the screen regularly - a wipe over with a clean lint free microfiber cloth is all it should need.
Clean the software
FIRST, copy your important user documents - letters, photos, music etc - to a an external hard drive, CD, DVD or memory stick.
In My Computer Right Click Drive C. Click the Tools tab. You will see this image. Click "Check" and run a scan. If errors are found you should get professional help.
Click the "General" tab and select Disk Cleanup. Run it.
Look through your files, and archive or delete any that are no longer needed.
Uninstall any old programs that are no longer needed.
Again in My Computer Right Click Drive C. Click the "Tools" tab and click "Optimise". Your computer may need to restart.
Make sure your anti-virus is active, registered and fully updated, and run a "full scan".
Finally, make sure your version of windows is fully updated. (Settings, update & security, View update history to ensure updates are being successful, then "Check for updates")
The picture here is for Windows 10, but every version of Windows has similar tools that are accessed the same way - right click drive - properties - tools.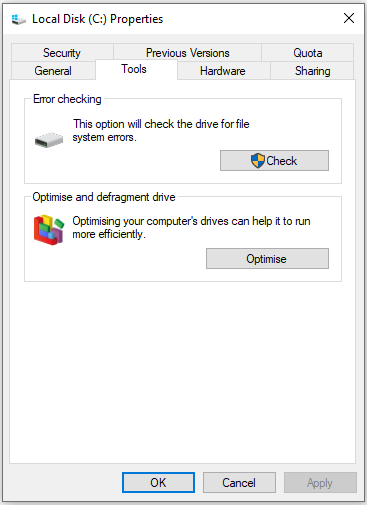 Before you do anything else you should:
Copy or back up important files. These copies should also be scanned for viruses.
Make sure before cleaning with a damp cloth that the equipment is disconnected from the mains.
Read the disclaimer.
Disclaimer
skillbank.co.uk provides this information in good faith as a free service. We make no representations or warranties of any kind, express or implied, about the completeness, accuracy, reliability, or suitability of the information contained on the website for any purpose. Any reliance you place on such information is therefore strictly at your own risk.
In no event will we be liable for any loss or damage including without limitation, indirect or consequential loss or damage, or any loss or damage whatsoever arising from loss of data or profits arising out of, or in connection with, the use of this website.