Windows 11, Windows 10 and earlier versions
The information on these pages is provided in good faith as a free service. Please read the disclaimer below, and also the important information regarding logging on to the PC and your Microsoft account.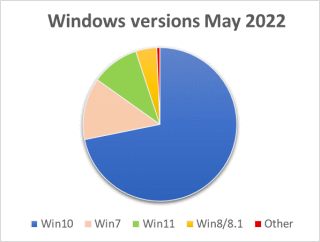 Windows 11 is now offered to "compatible PC's"
You can see in the chart above that over 10% of Windows PC's are already using W11, although many are still using older - and often unsupported versions.
The good news is Windows 11 works really well, and installation is very straightforward - and free. However .. many PCs will not have components that meet the new requirements. In some cases your PC may just need some minor adjustments (updating and turning on security features). The other good news is that
Windows 10 will continue to be maintained and supported with updates until October 2025.
Should I upgrade to W11 if its offered?
Now over a year old Windows 11 is now stable and robust. It offers better security then earlier versions of Windows, and some improvements in the "user experience."
I've been using it since it first became available with very few issues, so yes if your equipment is compatible and you see this message I'd recommend you to update.
As always, TAKE A BACKUP of your important data first.
What if my PC is "not compatible"?
Sometimes all that is needed to make it compatible is a simple change to turn on security settings. Also, Windows 11 CAN be installed on hardware that is "not compatible" with Microsoft's requirements - "at your own risk".
Windows 11 is different!
Well, yes it is. However the first difference you will notice is in the taskbar, with the "start" button in the middle.
Go to "Settings" "Personalisation" "Taskbar" "Behaviours" and you can put it back on the left where it belongs.
While in "Settings" "Personalisation" "Taskbar" you can change other settings to get rid of new annoyances like widgets.
Another difference is the start menu - but you will soon get to like it.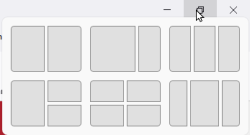 I really like the "snap layouts" that allow me to set different applications in different parts of the screen. It makes working between two or three applications so much easier. This was introduced in W10 but I never found it very successful. In W11 it just WORKS.
Timing of major updates to W10 and W11
Windows 10 now receives major updates annually in the autumn. So the next will be 22H2 (then 23H2 etc). Servicing continues for 18 months from the release date.
No Spring update is planned for W11 this year, so the next major update will be W11 - 22H2 (then 23H2 etc) and versions are supported for 2 years.
Support for earlier versions of Windows.
Many users have earlier versions such as Windows 7, 8, and 8.1; all of these are now out of extended support, (except for 8.1 whose extended support ends in 2023).
Even some Windows 10 versions have already expired; support for windows 10 builds lasts for only 18 months - so version 20H1 expired when 21H2 was available.
With a little care you can continue using versions whose support has expired. I have clients who are still using Windows XP with no issues - even for online shopping and internet banking. That is NOT a recommendation, with an old version like that you would be MUCH better advised to upgrade to Linux.
Why stay with Windows 7? (or 8, Vista, or XP?)
Well a lot of older PCs, and especially laptops, are not compatible with windows 10. Also you may have software that will not run. Or you may feel if you have an older machine that is not worth the expense of upgrading. I have a recent laptop running Windows 7 that I can not update to Windows 10 because the manufacturer (HP) has not developed Windows 10 drivers for the hardware.
How to continue using versions prior to Windows 10 safely
Your PC will not blow up or catch fire! All your apps will continue to run as usual. All you need to do is:
Check you have an active THIRD PARTY (not Microsoft) anti-virus installed, AND WORKING. I recommend AVAST or PANDA (both free) for older systems.
Back up important or irreplaceable documents - family photos, whatever - to a memory stick. You can get 64G of storage for under a tenner. Get two in different colours and do backups every 6 months, say red April, blue October.
Dont be click happy! Always think twice before clicking on a link, especially in email; hover over the link, and check its going where it says.
If you need more reassurance I'd be happy to check your PC security and advise on how to stay safe.
Other alternatives - Linux
You dont HAVE to use windows at all. If you mainly use your PC for browsing the web, online activities e.g. shopping or banking, Office applications like word or excel, or managing photos you can do all this just as well, and often better, with Linux Mint. Best of all it runs fast even on older machines, is natively malware resistant, and its all FREE. You can even try it out without installing it! I have several clients who have moved from Windows to Linux Mint and wont change back.
---
Alternatives for Windows 10 installed apps
Many of the apps that come by default with windows have limited functions. In many cases there are much better free "open source" applications you can easily install. Here are some suggestions.
Important: Your Microsoft Account
By default you will log in to your PC using your Microsoft account as username and pasword. This means you will not need to log on seperately for Onedrive, Email or other applications. If you don't already have a Microsoft account you will be offered a chance to get one when W10 installs. If you prefer, you can sign up for a Microsoft account here. However..
Recovering a lost Microsoft Account can be VERY difficult - or even impossible.
Your details are protected VERY securely. So do make sure you keep a record of the EXACT username (email address) and password that you use for that account. Write it down, make sure its clear which are numbers, letters, upper & lower case etc. and keep a copy with you.
If you lose access to your Microsoft account it could make your computer unusable, and there may be no way to access your files - documents, music, photos, etc..
Disclaimer
skillbank.co.uk provides this information in good faith as a free service. We make no representations or warranties of any kind, express or implied, about the completeness, accuracy, reliability, or suitability of the information contained on the website for any purpose. Any reliance you place on such information is therefore strictly at your own risk.
In no event will we be liable for any loss or damage including without limitation, indirect or consequential loss or damage, or any loss or damage whatsoever arising from loss of data or profits arising out of, or in connection with, the use of this website.