Portable applications.
Portable applications are programs you can run on your computer without installation. They are especially useful if you want to use a special program for a short time, such as a tool for removing a particular virus.
Installed software
Installed software may create:
Temporary and backup files.
Registry entries. (Used for storing settings.)
Files in the user's profile folder.
"Most recently used" entries.
File associations - so it becomes a default for opening that file type.
DLL's, hardware drivers , etc. etc.
Portable
Advantages of portable apps:
No need to uninstall when you no longer need them.
Dont slow your computer down
Make every PC feel like your own
Use your favorite software everywhere
Carry your bookmarks and settings
Edit your documents, photos and more
Can run from a pen drive, mp3 player, tablet or smartphone
Portable Apps is a repository of portable applications, and also provides a platform for collecting and launching your portable applications. And of course it too is portable. Choose and get them from the Portable Apps repository, because they are all checked for malware. The portable apps platform also provides an easy way to keep the apps updated.
Some ideas for small portable apps for your collection: (all run from the portable apps platform on a memory stick)
Malware removal: Clamwin, Roguekiller, Adwcleaner, McAfee stinger; Recuva;
Office: AbiWord word processor, Notepad++, Sumatra pdf, Sylpheed email;
Diagnostics: HWInfo, HeavyLoad, HDDScan, CrystalDiskInfo, MemTest, WebCam Viewer;
Images: Fotografix image editor, GreenShot, IrfanView image viewer.
Maintenance: Back4Sure, CCleaner, Revo uninstaller, TreeSize free, BatteryInfoView.
32 or 64 bit? Many applications now available come in 32-bit and 64-bit builds. A 64 bit version will not run on a 32 bit OS; In general there is little benefit in running the 64 bit version so for compatibility I only use 32 bit versions. If you really need a 64 bit app consider an installable version.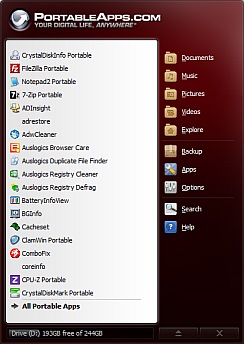 .