Customize Windows 10
Now that you have Windows 10 running on your computer you will want to learn how to use it and how to set it up to suit your individual needs. The instructions below will help you to: choose your own set of tiles; configure the start menu; search for files and folders; carry out a "full shutdown"; and choose options for email.
Normally you will log in using your Microsoft account identity and password. (Please take note of the warning and disclaimer below.) You will then be presented with a screen something like this. The start menu and tiles can be turned on and off by clicking the window logo at the bottom left of the screen. The new start menu combines the "tiles" from windows 8 with the traditional start menu from other versions of Windows - so you can use whichever you prefer.
About the tiles:
Right click on a tile and you can resize it, pin it to the taskbar, or remove it as a tile (this does not uninstall the app, you can still access it from "all apps" ). You can also drag tiles about in the tile space.
Individual tiles can be set up by opening them with a left click, and using the "settings" option of the individual tile. Above you will see the "weather" tile is showing the weather for Gateshead: this was set up while the app was open.
---
Add apps to the desktop or start tiles area
"All Apps" gives you a scrolling list of all installed applications.
You can simply left click to open one. Right click it and you can pin it to the start as a tile, or to the taskbar. Above you will see I've added "Irfan View 4.37" as a tile.
You can also left click an app in the list and drag it onto the desktop.
Windows "Secret" menu
Not obvious, but RIGHT click on the start button and you get these useful links - mostly just shortcuts to quickly access items buried inside control panel. Some examples:
Programs and features lets you uninstall unwanted apps;
Device Manager - sort out problems with scanners printers etc.
Network connections - get wifi or wired internet working
- and a quick link to show your desktop without closing apps.
---
Customize the start menu
Near the bottom of the start menu you will see "Settings". Click it and a window opens; choose "Personalisation" and click "Start".
These two screens allow you to choose which items you want to be displayed on the start menu. I mostly leave these turned off to save space as the folders are readily accessible by clicking on File Explorer.
Add (or remove) icons from the desktop
Right click on the desktop and choose "personalize". Select "Themes" on the left-hand menu, then under "related settings" * choose "Desktop Icon settings". You can choose from a selection of folders you might wish to have on the desktop - such as the recycle bin and "This PC".
* (at this point you can also change the mouse pointer)
---
Searching for files and folders: use File Explorer
Earlier versions of Windows provided a search box near the start button at the left of the taskbar. This is now a search box for "Cortana" and will do a web search. To find a file or folder by name you will use "File Explorer".
Above left you will see the Start menu with File Explorer selected. The right arrow sign > next to it gives you a "jump list". That is a list of the places you most recently accessed with that app. You can also pin locations to the jump list.
Above right you see the new "File Explorer". Most of this is familiar but take note of the search boxes just below the "ribbon" at the top of the window. As soon as you enter a search string (eg "books") in the right hand box the ribbon changes and gives you search options, including the location to be searched (eg "This PC".)
---
Shutdown
In Windows 10 when you click the "Power" button you are offered three choices- "Sleep", "Shutdown" and "Restart" as shown here. "Shutdown" terminates all your programs and logs you out of the system. Then it writes to the hard disk the contents of your system memory (the RAM), which includes things like the core Windows system (called the "kernel"), the drivers and the services (background system programs) - and finally powers off. All this takes some time, so this "hybrid shutdown" is rather slow. The next time you turn your computer on, Windows loads what it previously saved, which provides a very fast startup. Often this is a good option; however there are times when a full shutdown is better - such as when performing a backup or a virus scan, or when you want to ensure your data is secure. Another disadvantage is that it leaves your drive in an "unsafe" state which could make data recovery difficult.
Full shutdown
The easiest way to enable a full shutdown is to create a shortcut on your desktop. Right click on the desktop and choose New - Shortcut. A dialog will open asking you to type the location of the item. Type in (exactly as here - spaces are important)
shutdown /s /t 10
and click "Next".
You will then be asked to type the name for the shortcut. Type in
Full Shutdown
In future you will be able to perform a full shutdown simply by clicking on the shortcut. If you wish you can change the icon assigned to it. Right click the shortcut, choose "Change Icon" .. "OK"
You can now choose from any of the standard icons to be applied to the shortcut as a reminder of its function. The "Off button " or "Stop sign" icons are obvious choices!
---
Using Email
The Windows 10 Mail client can be tricky to get working with some providers, and has many limitations. One aternative is to use a third party Email application, such as Thunderbird - or Opera Mail. Before you set up your email you need to decide whether to use IMAP or POP3 email.
POP3 Email
IMAP Email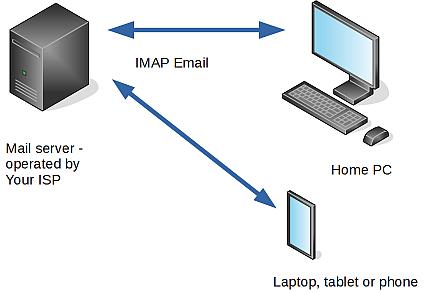 With POP3 email you move (download) messages from the mail server to your own PC. The messages are then deleted from the server so they no longer take up space. Copies of your emails (Inbox, Sent, etc) are kept on your own computer.
Advantages:
You can easily backup your email folders for security.
The messages are removed from the server, so your mailbox never gets full.
Copies of all your sent emails are also kept on your own PC.
Disadvantages:
You can only read the messages (or use the attachments) on the device they have been downloaded onto.
You may need to manage the space they take up on your PC.
If your PC fails you may lose all of your old emails.
With IMAP email the messages stay on the server, and you can check your email from any device - PC, tablet, phone etc.
Its much like webmail. Copies are stored temporarily on each of your devices and when you launch your email client these copies are synchronized with the emails on the remote server.
Advantages
The messages stay on the server until you delete them.
You can manage them - read, copy, move or delete - from any of your devices.
Disadvantages:
Items you "delete" are just moved to a trash or deleted folder on the mail server.
You must explicitly empty that folder or they will continue to take up space.
Items you delete using one device will also be deleted on all the other devices when you open your email client.
Your mailbox will get full and then you will not be able to send or receive mail.
Emails you SEND from one device may not appear in the sent folder of another dveice.
Setting up the Microsoft mail client
Setting up Thunderbird email client
---
Important: Your Microsoft Account
By default you will log in to your PC using your Microsoft account as username and pasword. This means you will not need to log on seperately for Onedrive, Email or other applications. If you don't already have a Microsoft account you will be offered a chance to get one when W10 installs. If you prefer, you can sign up for a Microsoft account here. However..
Recovering a lost Microsoft Account can be VERY difficult - or even impossible.
Your details are protected VERY securely. So do make sure you keep a record of the EXACT username (email address) and password that you use for that account. Write it down, make sure its clear which are numbers, letters, upper & lower case etc. and keep a copy with you.
If you lose access to your Microsoft account it could make your computer unusable, and there may be no way to access your files - documents, music, photos, etc..
Disclaimer
skillbank.co.uk provides this information in good faith as a free service. We make no representations or warranties of any kind, express or implied, about the completeness, accuracy, reliability, or suitability of the information contained on the website for any purpose. Any reliance you place on such information is therefore strictly at your own risk.
In no event will we be liable for any loss or damage including without limitation, indirect or consequential loss or damage, or any loss or damage whatsoever arising from loss of data or profits arising out of, or in connection with, the use of this website.